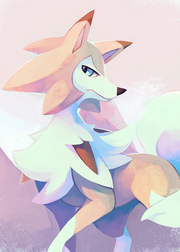 Aldhiyb is the Sand Wolf owned by Princess Aurelia bint-Damir. Aurelia raised him like a Selkie-Pet.
Biography
Aldhiyb joined Aurelia's side in 2013, during the Fiafia-Scandal, being a gift of her father. The puppy became her lifeline and snuggle buddy, being the only man allowed in her bed.
In 2018, he attended the Festival of Holy Light with his Mistress, accompanying her to the same festival one year later.
Character
Personal Relations
Aurelia and Aldhiyb are