Beyeha Okka Melko is a Kyrenaian Beyeha and, as daughter of Bey Keke Melko and Beya Vilja Melko, the most likely candidate to start the Dynasty should her father's project of making Jalid into a Khanate come through.
At the moment, however, she is a student at the Peeoma Girls' High School. She also owns a Jalid White Wolf by the name of Juoksija (Runner).
Biography
Born in 2003 as the 'Princess' of Jalid, Okka grew up in the harsh and unforgiving Land in the warmth of her parental home - and knowing, that Fate had something in store for her, as her Father was planning on making her Khana of Jalid.
In 2009, she started attending school, where she quickly
Character
Okka is the first to admit, that she isn't the best at academic studies, especially not at sciences, but she is quite well at languages - and has a quick tongue, never shy to counter.
She is not good with hot climates, but she endures with a strength
Personal Relations
Parents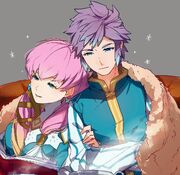 To her parents, the currently reigning Bey and Beya, Okka has a good relationship
She is crushing quite heavily on Prince Okan, who she met on several occasions,
Community content is available under
CC-BY-SA
unless otherwise noted.