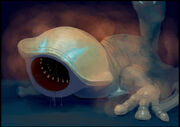 The
Cavephantom
, 
Alkuhuntum
in Kyrenaian,
Animal Species Native to Kyrenaia
, usually found deep in the caves and deserted mines of Kyrenaia, where they prey on everything intruding into them, from little rodents and bats to larger animals. One sometimes sees smaller specimens bred to be 
Kyrenaian Pets
, held in large terrariums and in the dark, their natural habitat.
Characteristics
Health
On the other side, some humans show allergic reactions to the secretions on the Cavephantom's skin.
History
Notable Specimens
Community content is available under
CC-BY-SA
unless otherwise noted.