The City of Ironcastle, also known in Selkie as Áitadagantiarann, is one of the industrial and economic centres of the Free Lands, home of many mines and shafts in the closer area. It is also home of Ironcastle Ironworks Limited, the major steel working company of the Free Lands, and Gabha Motorworks Limited, a producer of vehicles and engines.
History
Geography
The Socair River flows through the City, flowing into the Silver Bay near Silverport.
Demographics
Government
Ironcastle Militia
SDF-Garrisons
Of the SDF, only the Ironcastle Army Air Field is near Ironcastle itself.
Economy
Infrastructure
Education
Culture
Architecture
Old Town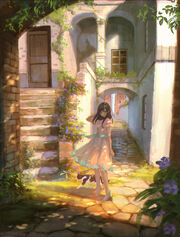 Ironcastle is mostly known, culturally, for its architecture, seen as a typical example for the Cloch or Stone Style.
New Town Districts
The new town districts of Ironcastle are modern
See also
Community content is available under
CC-BY-SA
unless otherwise noted.