The City of Riverwood, known in Selkie as Adhmaraice, is one of the smaller cities in the Free Lands, usually counted as part of the Mór-Land as it is situated where the Bán River meets Lake Mór. Riverwood is usually counted as one of the 'border cities' between the Great Woods and the Mór-Land.
Famous sons and daughters of Riverwood include, but are not limited to, Isla Saighead of the Tribe of Westmeath and the Selkie-Rock Band Dísréad, Ida Feic of the Tribe of Antrim and Ava Fuil of the Tribe of Monaghan. Riverwood is also home to a community of the Spiorad Ainmhithe.
History
Geography
Climate
Very harsh winters
Demographics
Government
Outlying Communities
Woodtown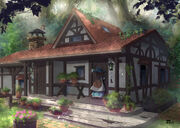 Woodtown
,
Adhbaile
in Selkie, is a small community and home to
Caighdeán House
.
Riverwood Militia
The SDF-Army has a garrison within the city, the I./21st Maor-Regiment, plus a few auxiliary units.
Economy
Focused on craftsmanship and woodcrafts
Infrastructure
Inland Waterways
Seaplane Port
Railway
Inns
Education
Doire Girls' High School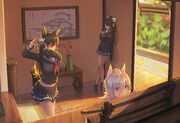 The
Doire Girls' High School
is one of the most esteemed institutes of learning for Young Female Adults in the Free Lands,
The Doire has a small Boarding School Section.
Culture
Within Selkie-Cuisine, Riverwood is known for its pork on the forestries, smoked over local wood.
Riverwood has a deserved reputation as a center of Selkie-Rock, being home to one of the first bands developing it, and to one of the most successful bands of the last few years, namely Dísréad.
See also
Community content is available under
CC-BY-SA
unless otherwise noted.