The Doire Girls' High School is a school in the City of Riverwood in the Free Lands of the Selkie with a small boarding school section attached to it.
The Doire is known as one of the most renown institutions for education of young women in the Free Lands. It covers the age from 16 Springs to 19 Springs (the Cherries/Freshmen, , and Seniors) and leads directly up to university education.
History
In 1903, during the Battle of Anfa Ridge, the Mounted Crossbows of the Doire fought with distinction. Of the 250 mounted crossbows sent to fight at the Ridge, only 97 returned to Riverwood, only 7 of which were not wounded in any way, shape or form.
Famous students
Famous Alumni
The School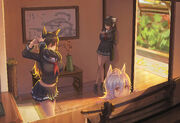 The School Uniform of the Doire Girls' High School is of the Culaith mHairnéalaigh Style, a sailor suit of a black blouse with white strips along the sailor collar and the end of the sleeves, as well as a black, pleated skirt. A ribbon allows to match the student (and her uniform) to one of the years. Five colours are available, red, green, blue, yellow and orange. The school's coat of arms can be found on the left chest of the Special Blouse (the Special Blouse being the one worn for official and special occasions, like graduation ceremonies).
For sports and swimming, there are separate uniforms available.
After-School Activities
The Doire Girls' High School is famous for its Mounted Crossbows.
Literature Club
Woodcarving Club
Football Club
Footvolley Club
Swimmer Team
School Band and Choir