Elin Blaidd, of Tralee Descent is a Spiorad Ainmhithe, one of the very few born in the 2000s. Since 2019, she is a student of history at the University of Leuda and, totally unrelated, a Bicíní Industries Model.
She is the older twin sister of Branwen Blaidd, of Tralee Descent and cousin of Nia Sneachtúil, of Cefnffordd Descent. Their parents are Llwyd Blaidd, of Tralee Descent and Meave Blaidd, of Tralee Descent.
Biography
She graduated in 2019. After a short vacation on the Oileánra-Archipelago, she applied to study History at the University of Leuda. Her main aim is to learn about the history of the Spiorad, as her father was not exactly forthcoming with information. It was during that inbetween-time, that she joined PiffleNet.
Later that year, she attended the 2019 Aftershow Party of the Archipelago Shooting with her little sister, being one of the models, that premiered during that particular Archipelago Shooting. She is especially keen on modeling swimsuits.
On the 27th of August, she got a letter of approval, starting her studies in March 2020.
Character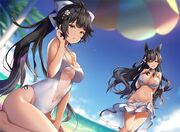 Elin is a mature and cheeky young woman, . Unlike her sister, she does not love to swim (she can and is quite good at it, though), but she loves the look of swimsuits and has a small collection. She is more into riding horses.
No matter what, however, she swore herself, that she would always be by her sister's side.
Personal Relations
The relationship to Cao, who is but a few years younger, is
Community content is available under
CC-BY-SA
unless otherwise noted.