Enya Cíochach of the Tribe of Navan, born as Enya Findehoof, is a student, actress and model, as well as a Half-Selkie. She is the youngest of three sisters, the older ones being Kiah and Ida.
Like her sisters, Enya is the daughter of Ambassador Utz Findehoof of Teressien and his wife.
Biography
Early Life (2000 - 2019)
Born in 2000 in Fortham, as the third of three daughters. By that time, her parents were already well-versed in raising children. She discovered very early, that she had a liking for swimming, but doing it professionally was not her thing. In 2006, she took the entrance exam for the Iris Boarding School Complex and passed, attending the school from that year onward. Her educational career was quite unremarkable.
In 2016, she accompanied her Father to Teressien, just in time for a ball, which she attended as date of Fürst Alrich III., mostly brought about by the scheming of her Grandmother, Naya Findehoof. Since then, whenever she is in Teressien and there is a ball or an official function, she attends it with Alrich.
She had her acting debut in 2017, in the shooting for The Avalanche of Steel, playing her Grand-Aunt Lykke. The movie premiered in 2019, first in Kyrenaia, then, a few months later, internationally. In the same year, she joined Bicíní Industries as a model with her sisters, premiering during that year's Archipelago Shooting.
In 2019, she and her sisters attended the 2019 Cuan Spring Festival, wearing the Teressian Traditional Costume. Also in 2019, she was at the 2019 Iris Boarding School Complex Sensha-Do Convention, getting to know people all over the world and having fun. At that point, her first movie, The Avalanche of Steel, premiered in the Free Lands.
Girlfriend of Prince Alrich (2019 - )
She graduated later in 2019, shortly afterwards attending the 2019 Ball at Schloss Zyng. During that trip, she received the approval from the University of Hochheyde to start studies in Trade and Industry with a specialization on Brewing in the coming Winter Semester. After the 2019 Archipelago Shooting, she attended the Aftershow Party.
She plans to continue acting and modeling as a side-hobby, but if she manages it is another question.
She attended the 2021 Masquerade Ball of Montrose with her boyfriend. The two made the trip via the Traumfänger, where Alrich used the chance to introduce Enya to government work.
Filmography
Character
Enya, generally speaking, is a bubbly, happy young woman, energetic and always on the move, rarely standing still. She's also quite intelligent and caring, as well as a very good dancer.
Enya loves ice cream and music by Dísréad, Halu and Mórbhileog, the three young men actually being her favourite as they get her to dance every time. She has been described by her sisters as a Water-Rat and loves the beach and swimming and water sports, although not professionally.
She's not good with electronics and computers, preferring to stay away from them, as well as mechanics. She likes Sensha-Do, thanks to her friend Doireann, but she could never imagine practicing the sport herself. In general, Enya is not someone, who would practice professional sports, but rather have fun while playing, unlike her sisters.
Personal Relations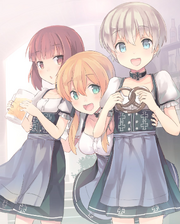 Generally speaking, there are not many people, which Enya does not like or is her bubbly self towards,but she likes some people especially.
Doireann and Enya shared a dorm at the Iris, are close friends. They were a quick match, the shy girl from near Tipa and the exuberant girl born in Fortham, which stuck together.
When Doireann joined the Iris Boarding School Complex Sensha-Do Team, Enya was supportive, although she made quite clear, that Tank Sport in any form was not hers and would never be. She still cheers for her friend whenever there is a competition.
Whenever she is in Teressien while there is a ball, Enya accompanies Fürst Alrich, since 2016. She likes him very much, maybe even love him. Yet, she knows, that it is not as easy as the movies want to make people believe. She also knows, that Alrich likes her, simply by the time he spends with her whenever they meet, his small smile, when he is with her, and his violin-playing.
She was first seen as his unofficial girlfriend, but since her graduation and the start of her studies, she is his official girlfriend.
However, the relationship between them is not without its bumps, not only due to what the yellow press writes, but also from between the two. Alrich's inability to understand why he loves Enya and her inability to subjugate to what is expected of a Teressian Fürstin (or the Fürst's Girlfriend, as the case may be) certainly count.
Enya and her Grandmother have a weird relationship: On one hand, Enya loves her Omma, but on the other, she knows, that she is an asset to her. Enya also rests assured, that she can ask her Grandmother for advice at any time, especially when it comes to men and one man in particular.
Community content is available under
CC-BY-SA
unless otherwise noted.