The Hammacker Motorenwerke, HMW for short, are a major company in Teressien, a manufacturer of cars, motorcycles, utility vehicles, planes and engines (both for ground, air and sea vehicles).
A total of around 145,000 people work for HMW and its different subsidiaries. In HMW Racing, the company operates a small racing team, mostly for promotional purposes.
Owner and CEO is Vin Erenback.
History
Subsidiaries
HMW-Flugzeugwerke: A subsidiary specialized in building planes.
HMW Marine Systems: Building engines for ships, though not the ships themselves.
HMW Racing: A racing team.
Important People
Products
See Main Article: List of HMW-Products.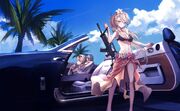 Flagship of its Grand Tourer Segment is the
HMW GT-123
, a convertible luxury car, while the
HMW GW-129
is the leading off-roader and HMW's first car with an electrical engine in a variant. The
HMW SW-119
is a classic sports car, in production since the 60s and continuously updated, while the
HMW SW-151
is the leading sports car. For the economy cars segment, the
HMW SA-58
is the vehicle of choice, another classic in long-time service and production, with the
HMW SA-158
as the leader of the Compact Car Range. In 2020, HMW plans to release the
HMW GT-160
to the public for 275,000 NSD and upwards.
Leading Motorcycle is the HMW KR-115, a touring motorcycle used, amongst others, by Rena Humm, as well as the scooters of the HMW KR-101-line, which is popularized abroad by Kiah Findehoof.
Facilities
Community content is available under
CC-BY-SA
unless otherwise noted.