Jette Schreyg is a Teressian actress and waitress, freshly graduated from Herzogin Elfi Mädchengymnasium in Dorch-Kanalsted. She is the younger sister of actress Aaltje Schreyg.
Biography
In 2016, Jette began to work as a maid in the same restaurant as her older sister, on recommendation of her older sister, and still works there despite being an actress as well. She says, that it pays a steadier income, as she does not plan to make acting her career. Upon being asked, what she would make her career, then, she replied, that she would love to go into training as a Gastwirtin, which is usually (and not completely correctly) translated as Restaurateur.
Filmography
Geisterhaus, 2010.
Geisterhaus II - Todeswolpertinger (2011).
Lichtfest, 2011.
Strandhotel, 2017.
, 2019.
Character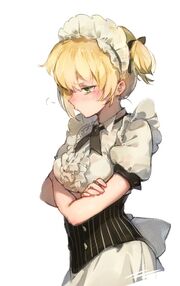 Personal Relations
Community content is available under
CC-BY-SA
unless otherwise noted.