Kiah Cíochach of the Tribe of Navan, also known as Kiah Findehoof, is the daughter of the Teressian Ambassador to the Free Lands and his Selkie-Wife, as well as the middle sister to Enya and Ida.
Kiah is an active and professional swimmer, models occasionally for Bicíní Industries (especially swimsuits) and is a student of sports medicine at the University of Fortham.
She also owns a cat by the name of Pfote (paw), a black cat with a white/grey stomach and face.
Biography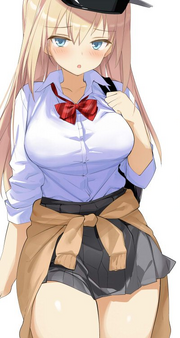 Kiah Cíochach of the Tribe of Navan was born in 1996 in
Fortham
as the daughter of the Ambassador of
the Principality of Teressien
in the Free Lands and his wife, as the middle of three children. Her older sister Ida was, at the time, already two years old and was admired by her little sister until 2000, when Ida was sent to the
Iris Boarding School Complex
.
In 1999, Kiah discovered her talent as and love for swimming during a trip of her family to the Archipelago, where Kiah was almost always in the water and swimming.
She joined her sister at the Iris Boarding School Complex in 2002, graduating in 2015. During her school career, she joined the swimmer team of the school as soon as possible in 2004 and made a name for herself as a very good and talented swimmer. She became Team Captain in 2011, at the tender age of 15 Springs.
Her first boyfriend was a fellow member of the Swimmer Team, their relationship lasted for a few weeks.
In 2019, she was with her sisters at the 2019 Cuan Spring Festival,
Character
Kiah loves to swim and does so competitively, and quite successfully so. Kiah is also an enthusiastic scooter driver and owns a
HMW 101 Scooter
.
Personal Relations
Kiah loves her sisters dearly, especially Enya - for her, Enya is the little chick of the flock and
Kiah and her team's supervising teacher have
Community content is available under
CC-BY-SA
unless otherwise noted.