Kupandukira is a territory ravaged by a number of Civil Wars since 1960. From 1965 to 1975, the Free Lands of the Selkie had a Humanitarian Mission in the land. Since 2000, Kyrenaian Peacekeepers keep the peace.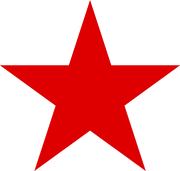 Most commonly referred to as the regular government of Kupandukira is the
Red Star Alliance
.
Chronological History
Empire of Kupandukira (996-1941)
See also
The Short Democracy (1941-1950)
Geography
Climate
Biodiversity
Politics
The Five Governments of Kupandukira
Economy
First Sector
Second Sector
Third Sector
Tourism
Demographics
Religion
Education
Health
Culture
Music
Art
Architecture
Cuisine
Media
Sports
Fashion and Design
Community content is available under
CC-BY-SA
unless otherwise noted.