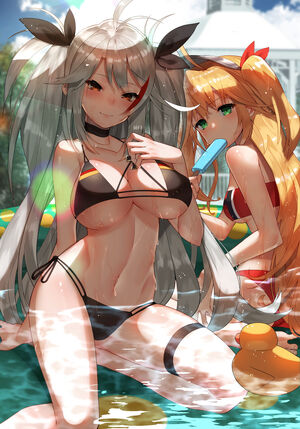 Leannáin
is a
Selkie-Rock Duo
composed of 
Alaina Trasnaigh of the Tribe of Clonmel
and 
Layla Dearg of the Tribe of Waterford
. The band is at home in Ardán, near
Inis
.
Members
Alaina Trasnaigh of the Tribe of Clonmel
Alaina is the electric guitarist and main-vocalist.
Born in 1994, Alaina is two months older then Layla, the age difference hardly mattering to either of them. Her parents were a carpenter and his wife,
Layla Dearg of the Tribe of Waterford
Layla is the bass-guitarist and secondary vocalist, as well as able to play the keyboard.
In 2018, her father died after short illness. This led to the song Ár mBlocha Cloiche, Our Tombstones, from 2018's album Crua ar chúis mhaith.
History
The two young women met first at the age of a few months, in their shared hometown of Ardán, near Inis. While their fathers got along well with each other, their mothers were old rivals and fought each other at any given and not-given opportunity.
The band came to a wider critical acclaim in 2014, with the concept album Cross and Arrow, the larger thematic context being the Crusade between 1280 and 1325.
In 2017, Layla's father died of a sudden stroke. That led to a creative pause, soon resulting in the album Crua ar chúis mhaith from 2018, focusing a lot on love and loss, but also on peace and tranquility. One of the songs, Ár mBlocha Cloiche, is to be seen as a memorial to Layla's Father and dedicated to him.
After the Battle of Falernum, Leannáin and Disread were troop entertainment for the SDF-Forces in Sadera, a bit of a reward for the men and women. They toured the stations, where the SDF was deployed, including their humanitarian efforts, and played two concerts.
From 2019, with Disread's shift to harder rock, Leannain discovered influences from Power Metal and adapted them to their needs, delivering 2019's Arís sa Sárú arís.
In early 2020, Leannáin played at the 2020 Port Serenity Music Festival, right after Disread.
Style and Reception
Leannáin has often been compared to Dísréad, a comparison both bands neither dread nor try to avoid, mainly because while there are similarities, for example both women playing guitars, there are enough differences: Leannáin is known for its harder songs, sometimes aggressive vocals (or at least aggressively sung) and sometimes incorporating keyboards. They are seen as a typical band of the Selkie Hard Rock.
Leannáin's songs are loud and aggressive, with the guitar emphasized. Their topics are usually topic of military and warfare, although both members of the band deny, that they were glorifying war and fighting or that there was a political message behind their songs.
The only major exception to that is the 2018-album Crua ar chúis mhaith, Hard for a good reason, which focuses a lot on love and loss, but also on peace and tranquility, their 2018-song Cúrsaí Síochána (Hounds of Peace) stands as an often quoted example. They also delivered Ár mBlocha Cloiche, Our Tombstones, on the same album, presenting a song, in which they try to work over the loss of Layla's father. In general, Crua ar chúis mhaith (Hard for a good reason) won critical acclaim.
With Dísréad turning harder in Mid-2019, Leannáin turned to harder rock as well, discovering influences from Power Metal. 2019's Arís sa Sárú arís, Into the Breach again, was exactly that, their statement, that they were back in business and stronger then ever - and not only that, with a new format as well. Arís sa Sárú arís was a concept album, retelling the battles of the Marcach over their many centuries, shedding focus on some of them or their formations. The first song from that album, Coinnigh na costais go léir, Hold at all costs, premiered at the 2019 Cuan Spring Festival.
Performances
Discography
Cross and Arrow (Concept Album, the Crusade, 2014).
Simplí Album (Collaboration Album, Comedy Rock, 2017).
Crua ar chúis mhaith, Hard for a good reason, 2018.
Arís sa Sárú arís, Into the Breach again, 2019.
Community content is available under
CC-BY-SA
unless otherwise noted.