Leonard Rualacha of the Tribe of Wicklow is a student of the Scilly Boarding School, a semi-professional Marcach, Model for Bicíní Industries and professional swimmer in the School Team.
Biography
His mother died in 2012 of cancer, leaving his father deeply depressed, sending him from homely Scrín to Droichid Island and its Boarding School. In 2007, his father had a short affair, from which a girl came, Darufa, Leonard's half-sister, who he loves as if she was of the same mother.
He attended the 2019 Cuan Spring Festival, where he met his half-sister, his father and the rest of the Bicini Industries Crew - he also got to know Miss Harukana Miki and her daughter, Miss Hina Miki. He attended the 2019 Aftershow Party of the Archipelago Shooting as well.
Character
His hobby on rainy days is tinkering, which delights his little half-sister. He likes tough women.
Personal Relations
His father and Tosaí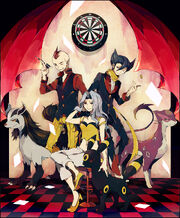 Leonards Father is Liam Rualacha of the Tribe of Wicklow, 
With Tosaí, the family's Grey Wolf, Leonard is on very friendly terms.
Community content is available under
CC-BY-SA
unless otherwise noted.