Major Marla Éan of the Tribe of Cork is an officer of the SDF-Army and commanding officer of III./11th Dragan-Regiment.
Biography
Commander, 7th Company, III./11th Regiment of Dragoons, then Commander, III./11th Dragan-Regiment
posed as a model for the SDF-Army Uniforms
participated in Operation Spartacus.
Character
Excellent markswoman with her Gabha R-15,
Personal Relations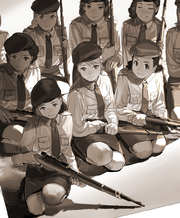 Ever since Éan and Elba trained a class of police snipers together, the two were friends of each other
Despite what many say, between the two officers, there is a friendship and not much more.
Community content is available under
CC-BY-SA
unless otherwise noted.