Megido is the capital of the Ilkhanate of the same name, a metropolis of fifteen million people in the entire urban area.
One of the most remarkable sights, and centre of the city, is the Palace of the Ruby Hall, seat and centre of Government, palace of the Ilkhan of Megido and, if the Ilkhan of Megido is elected as Sultan by his peers, Seat of the Sultan.
History
- settled around 9,000 BCE
-
Geography
Megido is situated at the shore of Lake Tahul, where the Rayid River meets Lake Tahul - making Megido the ideal hub for the Tahul River System.
Demographics
Government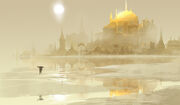 The Palace of the Ruby Hall is the centre of government of the Ilkhanate.
Economy
Infrastructure
Education
Megido is home to a large university, the University of Megido, which is famed for many of its professors and alumni, one of the oldest institution of that kind in Kyrenaia.
Culture
See also