The Naval School Sensha-Do Team, a.k.a. the Puisíni (the kittens), is the Sensha-Do Team of the Naval School in Wembury. It was founded in 2014 by Tank Sport Enthusiasts and was adopted by the School for Sensha-Do. It is a joint team of the Officer Training Course, the Cadet Cadre and the Civilian Section.
The Team is specialized in Cold War Era Armoured Vehicles and has a number of vehicles from that time both in the starting grid and in reserve, including a squadron's worth of Mealltach Reconnaissance Tanks. Team Supervisor from the teaching staff is Commander Finnegan Oíche of the Tribe of Sligo.
History
In the summer of 2018, the Team visited the Imperial and Royal Monarchy for a student exchange. With them, they had a small vehicle fleet of historical vehicles of the SDF-Army and the SDF-Navy (see: Past Equipment of the SDF-Army).
In June 2019, they were part of the exhibits of the 2019 Iris Boarding School Complex Sensha-Do Convention. They, with the official order from the leadership of the Naval School, honoured both Commander Arvid Damgaard and Cadet Jana Hagedorn, guests from Lillorainen.
During the 2019 Launceston Harvest Festival, the Puisíni had a small detachment for a demonstration match against the Binn Boarding School Complex Sensha-Do Team in the city. Led by Fiona Bláth of the Tribe of Wexford, it was composed of five vehicles, three Faolchú Armoured Personnel Carriers and two Crogall Amphibious Armoured Vehicles.
With the graduation and resignation of a huge chunk of the founding mothers and fathers of the team, most notably of the team captain Fiona 'Fi' Bláth of the Tribe of Wexford, the Team reorganized itself and its active vehicle fleet over the winter of 2019/2020. One of the most important changes was reequipping II. Squadron, Realincse-Squadron, with Mealltach Reconnaissance Tanks to replace the Faolchú Armoured Personnel Carriers. While Sealsaill-Squadron remained the way it was, Raicleabán-Squadron was filled up with members of the former II. Squadron. New flag-squadron became the II. Squadron, headed by Realincse-Aon and Nolwenn 'Nolly' Dallaigh of the Tribe of Antrim.
Current Starting Grid
I. Squadron - Raicleabán-Squadron
II. Squadron - Realincse-Squadron
III. Squadron - Sealsaill-Squadron
Gallery
Former Members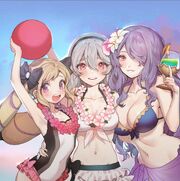 See also
Community content is available under
CC-BY-SA
unless otherwise noted.