Nolwenn Gluaisrothar of the Tribe of Wexford, friends being allowed to call her Nolly, is the company heiress of Gabha Motorworks Limited, a student of business at the University of Leuda and a model for Bicíní Industries. Starting 2020, she began to represent her family's company both at home and abroad.
Biography
She plans to graduate by 2021.
Character
Nolwenn is a fun-loving young woman with a perchant for motorcycles, especially for ones of Gabha Motorworks Limited. Her whole pride and joy is a Gabha Motorworks R-4. She also owns a G 20 and a G 19 A. While she also owns some of other manufacturers, including a HMW KR-101 Scooter, her favourites are home-grown products. Aside from that, she loves spending time with her friends, especially Eithne, who is her best friend.
However, Nolwenn also has a dark side,
While she loves the sea and spending time at the beach, Nolwenn isn't much of a swimmer.
Personal Relations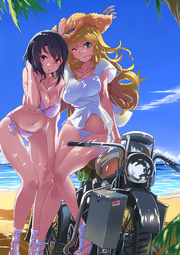 Eithne is Nolwenn's best friend, the other young woman being
Community content is available under
CC-BY-SA
unless otherwise noted.