Port Monee is a city in Teressien. 
Due to Schloss Kap Leuenkönig, seat of Wilrun IV., being in Port Monee, the city is the capital of the Baronat von Port Monee. Within Teressien, the city is known as a shipbuilding and fisheries site.
History
Geography
Port Monee sits at the southern end of mouth of the Gulf of Cala on Koebe Island. Between Koebe Island and neighbouring Canacion Island the border between Teressien and Brucalla divides the Straits of Cala in two. However, Port Monee is on the far side, towards the Teressian Mainland. Opposite to Port Monee, Kontorhof and Neuingen (a bit further to the north) sit on the shores of the Mainland.
The city itself is sitting in the Leuenkönig Bay, protected from northern winds by Kap Leuenkönig. Running into the bay from the west is the Leuen River, which comes from the hills further inland. It is a small river,
Climate
Demographics
Port Monee had 35,321 inhabitants according to the 2017 Census, 
Government
Schloss Kap Leuenkönig
Economy
Fisheries
Shipbuilding
Tourism
Port Monee has a an old inner city, which stretches wide along the shoreline, drawing tourists from far and wide. With the Economic Harbour being on the 
Infrastructure
Harbours
Port Monee has three harbours, the Old Harbour, the Economic Harbour and the Marina. The Old Harbour and the Marina are close by the City Center and the mouth of the Leuen River, the former being used today to unload the river ships coming down loaded with goods and passengers. The Economic Harbour is on the southern side of the city and mostly focussed on larger economic activity.
Seaplane Port
Port Monee Regional Airport
Streets and Railways
Education
Port Monee has a wide variety of schools, amongst them the Kadettenanstalt Port Monee,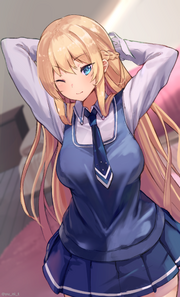 Another school in Port Monee with a huge reputation is the Baron Firmin Mädchengymnasium,
Culture
Port Monee is renown across Teressien and its cuisine for its fish dishes,