The Swordmaidens of Carman Fea are the oldest amongst the Orders, established in the 4th century by command of High King Áed the Hunter and the devoted to the service of Carman Fea, Goddess of War and Science. They proved to be a very reliable force, but nowadays are, just like their peers, a militia much like the other five orders, as well as tasked with security pertaining the Cult of Carman Fea.
Current Grand Captain of the Swordmaidens is Caollaidhe Fáscadh of the Tribe of Cork. The headquarters and major station of the Swordmaidens is Clais Castle in Ironcastle.
History
From 325 to 450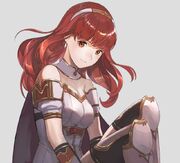 In 325, Áed the Hunter allowed the formation of two Orders, belonging to the two mightiest Cults of his time: The Cults of Lodan Lir and Carman Fea, resulting in the formation of the Swordmaidens and of the Arrowmaidens.
The deeds of Enya, of Claimhteoir had impressed the High King enough to further look into female warriordom and to allow the other half of his population to take up arms, if they wanted. As the First Swordmaiden, Enya is important for the self-perception of the Swordmaidens.
The first test of their skills came in 330,
During the Kings' Rule (450-826)
Against Raiders (826-919)
From the Raiders' Golden Age to the Crusade (919-1280)
The Swordmaidens during the Crusade (1280-1325)
With the Inquisition and with the Explorers (1325-1790)
During the Second Golden Age (1790-1863)
In the 20th century (1863-today)
Notable Swordmaidens
Notable Formations
While the majority of the Swordmaidens are organized into Lances and Banners mostly for administrative purposes, some of these units perform ceremonial functions as well.
Grand Spardrí-Banner

, the most renowned Banner of the Swordmaidens.

3rd Ironcastle-Banner of the Swordmaidens

.

1st Riverwood-Banner of the Swordmaidens

.
Traditions